Description
.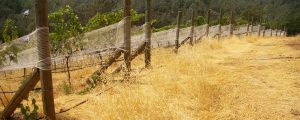 We farm this field blend of Syrah & Viognier on a steep, rocky, 2-acre vineyard, about one mile up the hill from our home in Oregon House, California. 1900 feel elevation, decomposed Granite (red clay), planted in 2004. This is a brutally hot, un-fertile terroir, that typically yields one ton or less per acre (~15 H/H in Euro-speak). Counter-intuitively, this terroir creates a situation where the stressed vines "shut down" part way through the maturation process and – rather than a 'hot', super-ripe, huge, "hot-climate" kind of wine – the resulting wine is typically medium bodied, fresh, high in acidity, and super-concentrated, requiring many years of cellaring to open up and blossom through its vail of tannins.
The eighth vintage of our Stone Soup, 2016, is a child of the fifth drought year in a row.
True to form, this wine is medium bodied, deeply flavored and concentrated, with a firm tannic structure and excellent natural acidity. This vintage is reminiscent of the 2010 at the same stage, with its elegance and great balance.
Similarly to its older siblings, this vintage has decades of life ahead of it, while offering great pleasure for current consumption.
90% Syrah, 10% Viognier           
Alcohol: 12.7%            Production: 123 cases