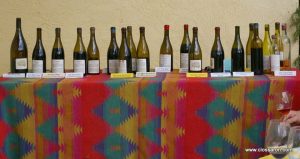 Our goal is to produce enjoyable, well–balanced wines, expressive of their distinctive terroir. Our minimalistic, "bare bones"  approach to winery processes is intended to minimize any winery- or processing-related characteristics in the wine.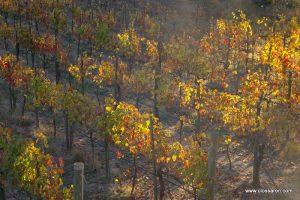 Our primary interest in Pinot Noir is related to its unsurpassed ability to capture and express the essence of its place of origin. There is an old saying, that a good Pinot expresses its varietal, whereas a great one expresses its terroir… You will certainly find our Pinots as distinctive as it gets.  Being grown on volcanic soils results in their unusual character, especially noticeable in their youth. With extended aging, they integrate this pronounced expression of terroir and become truly classic expressions of mature Pinot.
Our "Home Vineyard" Pinot Noir is generally considered our flagship wine. Starting in  2011, we have occasionally produced very limited quantities of  "Old Block" and "Lower Block" separately. These are two half-acre microclimates/sections of the Home Vineyard that, by comparison, show their own individual terroir expression.
From 2017, we started producing yet another Pinot bottling: coming from immediately across the road from our Home Vineyard, "Suzy's Block" is a 0.6 acre vineyard we planted in 2007 on an east-facing steeper slope on rocky red clay (aka "decomposed granite") soil. This wine is produced in even smaller quantity and, for the time being, is only available through our wine clubs.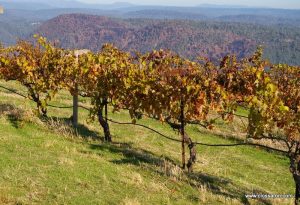 Syrah is another grape of tremendous quality potential in our region. For the first decade of our history we leased/farmed a few acres of this and other varieties on the nearby Renaissance Vineyard. The following three field-blends represent three distinctive expressions of that topographically complex Mountain-vineyard: Heart of Stone (Syrah, often co-fermented with Viognier or Roussanne), La Cuvée Mystérieuse (Syrah, co-fermented with mainly Merlot and Viognier), and Black Pearl (Syrah, co-fermented with mainly Cabernet Sauvignon and Petit Verdot). 2009 was the last vintage of these three wines. 2010, the last year we farmed these vines, was hit by repeated waves of spring frosts, which dramatically decreased the amount of fruit we got: there was enough fruit for only one cuvée we named "Spring Frost", instead of the three.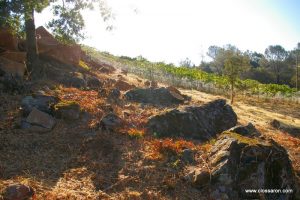 2009 announced the first vintage of our Stone Soup Syrah. At about 2000ft. altitude, this vineyard is located about one mile up the hill from our home, on our friends John and Ellen Trezevant's property. This Syrah's expression is strongly individual: lighter than most in body and alcohol, it has very deep color, vibrant acidity, and fresh aromas. This 2-acre site is a textbook Syrah vineyard: south-facing, steep, extremely rocky, granitic, well drained. The challenge here is getting the vines established in this extreme low-vigor, arid hot-spot, but the early results are highly promising. About 10% of the vineyard is planted Viognier, which has been co-fermented with the Syrah starting with the 2013 vintage.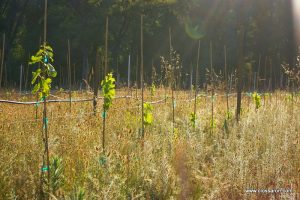 The White Field: In 2011, we started developing a new 2-1/2 acres vineyard on Rulik & Marieke's property, our long time friends and neighbors. This vineyard directly extends the Home Vineyard northwards and was designed as a field blend of multiple whites and reds, carefully selected by their affinity with the soil and microclimate. By the end of 2012 about two thirds of the surface was planted with Sauvignon Blanc, Roussanne, Viognier, Riesling, Petit Manseng, and Syrah. The severe drought of 2012-16, accompanied by poor management of our Water District's irrigation water, resulted in great losses of much of what we planted, but we kept planting (and re-planting) the White Field with Trousseau, Mondeuse, and Pinot Noir. In 2018 we added some Counoise and Cinsault, and in 2019 we completed the planting with Gewürztraminer and more Cinsault. First experimental results from these young vines are exclusively available through our Short List wine club.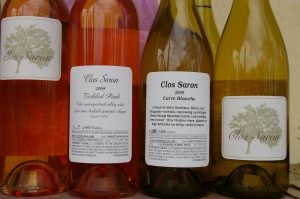 In the meanwhile, until our new vineyards come to bear fruit, we work with a few excellent grapes growers elsewhere. Our Tickled Pink is a rosé made from early harvested Syrah and various other red and white varieties. Starting with 2013, the rosé ferments on some white skins/stems and is barrel aged for 12-18 months before bottling. Following bottling, it is further bottle-aged for 3 years before release. Counter-intuitively, this rosé evolved with many years of cellaring – just like a red wine. Our long-term goal with this wine is to release it when it's at least seven years old. From 2018, we stated producing another, smaller batch of rosé, using Pinot Noir grapes from the Home Vineyard. We call it Tickled Noir.
Carte Blanche is our white blend, a co-fermentation of various white grapes. Until 2010, we farmed the grapes for these two wines on the Renaissance Vineyard. From 2011 and on, it is made of purchased fruit.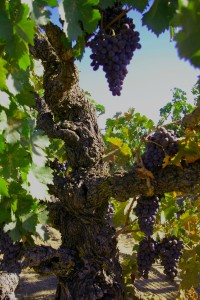 One of the most exciting outcome of the disastrous 2010 frost season is what we refer to as the "Blues", a few red cuvées, made of sourced fruit: Out of the Blue was made from ancient-vine Cinsault. A Deeper Shade of Blue was a slightly more "serious" variation on the theme, co-fermented with Syrah, resulting in a more complex, age-worthy wine. The most recent of the Blues is Kind of Blue, a catch-all label we use now for reds that are kind of 'blue' in character or style. The grapes used for this one have vary through the vintages, and so did the provenance.