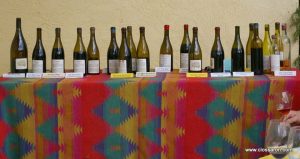 Our goal is to produce enjoyable, well–balanced wines, expressive of their distinctive terroir.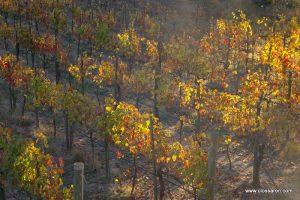 Our primary interest in Pinot Noir is related to its unsurpassed ability to capture and express the essence of its place of origin. There is an old saying, that a good Pinot expresses its varietal, whereas a great one expresses its terroir… You will certainly find our Pinots distinctly different from their Burgundy, Russian River, Central Coast, and Oregon relatives, while being as true to their varietal as any. Starting with our 2011 vintage, we have bottled separately some of the individual micro-climates which constitute the "Home Vineyard", generally considered our flagship wine. Single-microclimates sections of the Home Vineyard are occasionally bottled individually:  "Old Block" and  "Lower Block" have been releases from the 2011 vintage.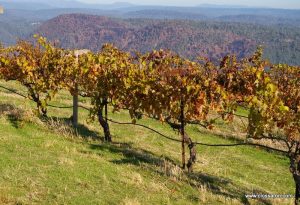 Syrah is another grape of tremendous quality potential in our region. For the first decade of our history we leased/farmed a few acres of this and other varieties on the nearby Renaissance Vineyard. The following three field-blends represent three distinctive expressions of that topographically complex Mountain-vineyard: Heart of Stone (Syrah, often co-fermented with Viognier or Roussanne), La Cuvée Mystérieuse (Syrah, co-fermented with mainly Merlot and Viognier), and Black Pearl (Syrah, co-fermented with mainly Cabernet Sauvignon and Petit Verdot). 2009 was the last vintage of these three wines. 2010, the last year we farmed these vines, was hit by repeated waves of spring frosts, which dramatically decreased the amount of fruit we got: there was enough fruit for only one cuvée we named "Spring Frost", instead of the three.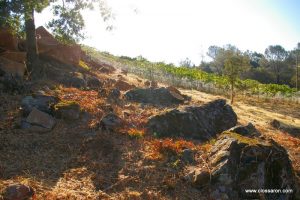 2009 announced the first vintage of our Stone Soup Syrah. At about 2000ft. altitude, this vineyard is located about one mile up the hill from our home, on our friends John and Ellen Trezevant's property. This Syrah's expression is strongly individual: lighter than most in body and alcohol, it has very deep color, vibrant acidity, and fresh aromas. This 2-acre site is a textbook Syrah vineyard: south-facing, steep, extremely rocky, granitic, well drained. The challenge here is getting the vines established in this extreme low-vigor, arid hot-spot, but the early results are highly promising. About 10% of the vineyard is planted Viognier, which has been co-fermented with the Syrah starting with the 2013 vintage.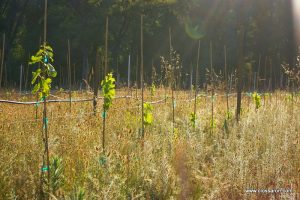 The Future: In 2011, we started developing a new 2-1/2 acres vineyard on Rulik & Marieke's property, our long time friends and neighbors. This vineyard directly extends the Home Vineyard northwards. By the end of 2012 about two thirds of the surface was planted in small blocks to Sauvignon Blanc, Roussanne, Viognier, Riesling, Petit Manseng, and Syrah. The severe drought of 2013 and 2014 did not allow for any further planting, but in 2015 we finally completed the planting of the vineyard with small parcels of Trousseau, Mondeuse, and more Pinot Noir (can you ever have enough of it?). First experimental results from these young vines are exclusively available through our Short List wine club.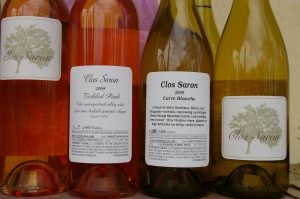 In the meanwhile, until our new vineyards come to bear fruit, we work with a few excellent grapes growers elsewhere. Our Tickled Pink is a light rosé made from early harvested Syrah and various other red and white varieties. Starting with 2013, the rosé ferments on some white skins/stems and is barrel aged for 12-18 months before bottling. Carte Blanche is our white blend, a co-fermentation of various white grapes. Until 2010, we farmed the grapes for these two wines on the Renaissance Vineyard. From 2011 and on, we purchase fruit farmed in the Lodi A.V.A. by Markus Bokisch.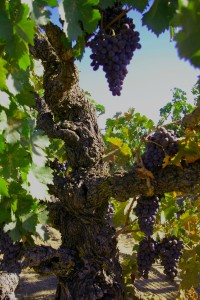 One of the most exciting outcome of the disastrous 2010 frost season is what we refer to as the "Blues", a few red cuvées, made of sourced fruit: Out of the Blue was co-fermented ancient-vine Cinsault with a small balancing proportion of Syrah and other red grapes. A Deeper Shade of Blue is a slightly more "serious" variation on the theme, with a higher proportion of Syrah, resulting in a more complex, age-worthy wine. A new release in 2015 is the Blue Cheer, an ancient-vine cuveé of Carignan and Cinsault and, in 2017, Kind of Blue, a Sierra Foothills Syrah-based cuvée was released.