Where can I get Clos Saron wines?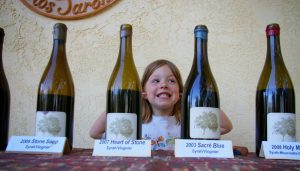 A winemaker friend of ours once said that one way to think about it, is that you – the customer – have some of our money and we, the vintners, have some of your wine… If this is the way you feel about it, this page may help facilitate that exchange. Proceed with caution. 
If you'd like to order directly from us, please use the following link. To request a semi-annual allocation of our rarest, most sought-after, and non-commercial wines, please click on The Short List. We also offer a Library-focused option at The Library List.
Following is a list of establishments who have bought wines of ours recently, grouped by state. While striving to keep it up to date, we have no way of knowing exactly when individual places sell out. We apologize for any inconvenience or disappointment this may cause.
Other than in the USA, limited quantities of our wines are exported to Canada, the U.K., the Czech Republic, and Sweden. Please scroll down to see the contact information for our importers.
United States
California (Distributed by T Edward Wines)
CA Restaurants & Wine Bars:
Alimento, 1710 Silver Lake Blvd, (323) 928-2888

Bestia

, 2121 E. 7th Place, Los Angeles, 213.514.5724

Café Collage

 Rice's Crossing Rd.,  Oregon House,  Tel:  530.692.2555
Camino, 3917 Grand Ave, Oakland, (510) 547-5035

Central Kitchen

  3000 20th St, San Francisco, (415) 826-7004

Chez Panisse

  Shattuk Ave, Berkeley, (510) 548-5525

Commonwealth

 2224 Mission,  San Francisco, (415) 355-1500

Del Popolo

  855 Bush St, San Francisco, 415.589.7940

El Paseo

  17 Throckmorton Ave, Mill Valley, CA. 

Farallon

 450 Post St  San Francisco,  Tel:  415 956 6969
Farmshop  2233 Larkspur Landing Circle, Larkspur, CA. 415-755-6700
Foodshed Pizza  3385 Old California Way, Napa, 707.255.3340

Heirloom Café

 2500 Folsom  San Francisco,  Tel:  415 821 2500
Ledlow, 400 S Main St, Los Angeles, (213) 687-7015

Liholiho Yacht Club

  871 Sutter St, San Francisco, (415) 440-5446

Nopa

 560 Divisadero (@Hayes)  San Francisco,  Tel:  415-864-8643

Ordinaire

 3354 Grand Ave  Oakland,  Tel:  (510) 629-3944

Park Tavern

  1652 Stockton St, San Francisco,  Tel: (415) 989-7300

Peter Lowell's

 7385 Healdsburg Ave,  Sebastopol, CA,  Tel:  707-829-1077

Punchdown

, 1737 Broadway, Oakland. 510.788.7877
Ruby Wines, 1419 18th Street San Francisco, 415.401.7708
Tabula Rasa Bar, 5125 Hollywood Blvd, Los Angeles, (213) 290-6309

Terroir

 1116 folsom,  San Francisco,  Tel:  415-558-9946

Trou Normand

  140 New Montgomery St, SF, Tel: 415-975-0876

The Cavalier

, 360 Jessie St, San Francisco. Tel: (415) 321-6000
CA Retailers & Online Sales:
Bay Grape,  376 Grand Ave, Oakland, (510) 686-3615

Cal-Mart

  3585 California Street  San Francisco,  Tel:  (415) 751-3516
D & M 2200 Fillmore St, San Francisco, Tel: (415) 346-1325
Domaine LA, 6801 melrose ave, Los Angeles, 323.932.0280

Farmstead Cheese & Wine

  Alameda (1650 Park St) Oakland (6218 La Salle Ave).  Tel: 510 864 9463.

Flatiron

  2 New Montgomery St, San Francisco. (415) 780-1405

Healthy Spirits

  San Francisco, 3 locations. (415) 374-7838.

Local Cellar

  2801 22nd Street San Francisco, 415.795.4022
Lou Wine Shop, 1911 Hillhurst Ave, Los Angeles, (323) 305-7004

Oakland Yard

  420 40th st., Oakland (510) 808-5129

Ordinaire

 3354 Grand Ave  Oakland,  Tel:  (510) 629-3944

Paul Marcus

Wines  5655 College Ave  Oakland,  Tel:  510-420-1005

PlumpJack

Wines  4011 24th St.,  San Francisco,  Tel:  415-282-3841

Pour This

, Los Angeles https://www.pour-this.com

Robert's Market

  3015 Woodside Rd.,  Woodside, CA,  Tel:  650.851.1511

Ruby Wine

  1419 18th St  San Francisco,  Tel:  415 401 7708

Solano Cellars

  1580a Solano Ave,  Albany, CA,  Tel:  510-525-9463
Vineyard Gate  238 Broadway, Millbrae, CA, Tel: (650) 552-9530

Vino!

  various locations  Oakland, Berkeley, San Francisco,  Tel:  510-652-6317

Vintage Berkeley

  2949 College Ave & 2113 Vine St.,  Berkeley,  Tel:  510 665 8600 
New York, New Jersey, Pennsylvania (Distributed by David Bowler Wines) 
NY/NJ/PA Restaurants & Wine Bars:
5 Beekman

, Temple Court Building, 5 Beekman St, NY, (212) 658-1848

A.Kitchen

, 135 S 18th St, Philadelphia, PA, (215) 825-7030

ABV

, 1504 Lexington Ave, New York, (212) 722-8959
Agern, Grand Central Terminal, NYC, (646) 568-4018
Aldea, 31 W 17th St, New York, (212) 675-7223

Alder

, 157 2nd Ave, New York, (212) 539-1900

American Cut

, 363 Greenwich St, New York, (212) 226-4736
Atera, 77 Worth St, New York, (212) 226-1444
Betony, 41 W 57th St, New York,(212) 465-2400
Blanca, 261 Moore St, Brooklyn, (347) 799-2807
Blue Ribbon, 97 Sullivan St, New York, (212) 274-0404
Blue Ribbon Wine Bar, 35 Downing Street  NY, NY,  Tel:  (212) 337-0404

Buttermilk Channel

 524 Court Street  Brooklyn, NY,  Tel:  718.852.8490

Chef`s Club

, 275 Mulberry St, New York, (212) 941-1100

Commerce Restaurant

, 50 Commerce St, New York,  (212) 524-2301
Delaware & Hudson 135 N 5th St, Brooklyn,  (718) 218-8191

Dovetail

  103 west 77th street  NY, NY,  Tel:  212.362.3800
EN Japanese Brasserie, 435 Hudson St, New York, (212) 647-9196

Farm & Fisherman Tavern

, 1442 Marlton Pike East, Cherry Hill, NJ, (856) 356-2282

Freemans Restaurant

,191 Chrystie Street #2F, New York, (212) 420-0012

Gramercy Tavern

, 42 E 20th St, New York, (212) 477-0777

Hearth

 403 E. 12th St.,   New York,  Tel:  (646) 602-1300

High Street on Hudson

  637 Hudson St, New York, (917) 388-3944

Houseman,

  508 Greenwich St, NY, (212) 641-0654

Il Buco

 47 Bond Street  NY, NY,  Tel:  212.533.1932
James Beard House, 167 W 12th St, New York, (212) 627-2308

June

, 231 Court St, New York, (917) 909-0434

Kensington Quarters

, 1310 Frankford Ave, Philadelphia, (267) 314-5086
Kilo, 857 9th Ave, New York, (212) 707-8770
King Bee, 424 E 9th St, New York, (646) 755-8088

La companie des Vins Surnaturels

, 249 Centre St, New York, (212) 343-3660
L`Apicio, 13 E 1st St, New York, (212) 533-7400

Little Park

, Smyth Hotel, 85 W Broadway, New York, (212) 220-4110

Marc Forgione

, 134 Reade St, New York, (212) 941-9401

Mission Cantina

,  172 Orchard St, New York, (212) 254-2233

Momofuku Ko

  8 Extra Pl, NY,  Tel: (212) 203-8095

Momofuku

Ma Peche

, Chambers Hotel, 15 W 56th St, New York, (212) 757-5878

Momofuku Ssam Bar

 207 2nd avenue  NY,   Tel: (212) 254-3500

Mosaic

, 418 N Country Rd, St James, (631) 584-2058

North End Grill

  104 North End Avenue  NY, NY,  Tel:  (646) 747-1600

Olmsted

   659 Vanderbilt Ave, Brooklyn, (718) 552-2610

Park Ave Summer

, 960 Park Ave, New York, (212) 744-6685

Park Hyatt,

 153 W 57th St, New York, (646) 774-1234

Pearl & Ash

, 220 Bowery, New York, (212) 837-2370

Petruce

, 1121 Walnut St, Philadelphia, PA, (267) 225-8232

Prime Meats

, 465 Court St, Brooklyn, (718) 254-0327

Quality Meats Steakhouse

, 57 W 58th St, New York, (212) 371-7777

Rebelle

, 218 Bowery, New York, (917) 639-3880

Red Cat

, 227 10th Ave, New York, (212) 242-1122

Restaurant North

, 386 Main St, Armonk, (914) 273-8686

Riverpark

, 450 E 29th St, New York, (212) 729-9790

Roberta`s

, 261 Moore St, Brooklyn, (718) 417-1118

Root & Bone

, 200 E 3rd St, New York, (646) 682-7076

Serpico

, 604 South St, Philadelphia, PA, (215) 925-3001

Smith & Wollensky

, 797 Third Avenue, New York, (212) 753-1530

Spotted Pig

, 314 W 11th St, New York, (212) 620-0393

St. Anselm Inc

., 355 Metropolitan Ave, Brooklyn, (718) 384-5054

Steve & Cookies by the Bay

, 9700 Amherst Ave, Margate City, NJ, (609) 823-1163

Terroir Tribeca

, 24 Harrison St, NY, (212) 625-9463

The Clam

, 420 Hudson St, New York, (212) 242-7420

The Dutch

, 131 Sullivan St, New York, (212) 677-6200

The East Pole

, 133 E 65th St, New York, (212) 249-2222

The Gander

, 15 W 18th St, New York, (212) 229-9500

The LCL Bar

at The Westin, 212 E 42nd St, New York, (212) 405-4399

The Simone

151 E 82nd St, New York, (212) 772-8861

The Standard East Village

, 25 Cooper Sq, New York, (212) 475-5700

The Ten Bells

, 247 Broome St, New York, (212) 228-4450

Thirty Acres

, 500 Jersey Ave, Jersey City, NJ, (201) 435-3100

Topping Rose House

, 1 Bridgehampton-Sag Harbor Turnpike, Bridgehampton, (631) 537-0870

Townsend

, 1623 E Passyunk Ave, Philadelphia, (267) 639-3203

Traif

, 229 S 4th St, Brooklyn, (347) 844-9578

Union Square Cafe

, 101 E 19th St, New York, (212) 243-4020

Upland

, 345 Park Ave S, New York, (212) 686-1006

Vedge

, 1221 Locust St, Philadelphia, PA, (215) 320-7500

Vernick

, 2031 Walnut St, Philadelphia, PA, (267) 639-6644

Xixa

, 241 S 4th St, Brooklyn, (718) 388-8860
NY/NJ Retailers & Online Sales:
A Grape Pear

  509 Montauk Hwy  Eastport, NY,  Tel:  631.801.2790

Appellations

, NYC

Armonk Wines & Spirits

, Armonk, NY

Back Label Wines

, 111 W 20th St, New York, (212) 229-9463

Blanc et Rouge Wines

, 81 Washington St, Brooklyn, 718-858-9463

Brooklyn Wine Exchange

  138 Court Street  Brooklyn, NY,  Tel:  (718) 855-9463

Chambers Street Wines

  148 Chambers St # A  NY, NY,  Tel:  (212) 227-1434

Cork Wines

, 383 1st Avenue, NYC, (212) 673-3600

Court Liquors

, 146 West End Ct, Long Branch, NJ, (732) 870-9859

Empire Wine Warehouse

, Northway Shopping Center, 1440 Central Ave, Albany,  (518) 694-8503

Harrison Wine Vault

, 289 Halstead Ave, Harrison, NY (914) 835-0125

Joe Canal`s

, 1075 Mantua Pike, West Deptford, NJ, (856) 464-8787
 

Purdy`s Discount Wines

& Liquors, 70 Congress Pl # 72, Saratoga Springs, (518) 584-5400

Some Good Wine

, 13 E 8th St, New York, (212) 777-3151

Stockton Fine Wine

, 17 Bridge St, Stockton, NJ, (609) 397-0587

Suburban

, Yorktown Green Shopping Center, 379 Downing Dr, Yorktown Heights, (914) 962-3100

Sussex

Wine and Spirits  300 East 42nd Street on 2nd Ave  NY, NY,  Tel:  (212) 867-5838

Tarry

Wines, 175 N Main St, Port Chester, (914) 939-7234

Terry`s West Village

Wines & Spirits, 35 Greenwich Ave, New York, (212) 255-0222

Thirst

Wine Merchants  187 DeKalb Ave  Brooklyn, NY,  Tel:  718.596.7643

Uva

Wines Williamsburg  199 Bedford  Brooklyn, NY,  Tel:  718 963 3939

Vine Wine

Brooklyn, 616 Lorimer St, Brooklyn, (718) 349-1718

Vintry

Fine Wines  230 Murray Street (West Street)  Battery Park City,  Tel:  (212) 240-9553

Vinyl

Wine  1491 Lexington Ave.  NY, NY,  Tel:  (646) 370-4100

Wine Geeks

  559 Main St,  Armonk, NY,  Tel:  914 273 9463

Wine Library

, 586 Morris Ave, Springfield Township, NJ, (888) 980-9463

Wineshop

, 438 East 9th St, East Village, NY

Winfield Flynn

  558 3rd Avenue  New York, NY,  Tel:  (212) 679-4455
 Illinois   (Distributed by Robert Houde Wines)
Giant

, 3209 W Armitage Ave, Chicago, (773) 252-0997

Parachute

, 3500 N Elston Ave, Chicago, (773) 654-1460

Red & White Wines

, 1861 N Milwaukee Ave, Chicago, (773) 486-4769

Rootstock Wine & Beer Bar

, 954 N California Ave, Chicago, (773) 292-1616

The Cherry Circle Room

, 12 S Michigan Ave, Chicago

, (312) 792-3515

Trump Hotel

, 401 N Wabash Ave, Chicago, (312) 588-8000

Webster's Wine Bar

, 2601 N Milwaukee Ave, Chicago, (773) 292-9463
Massachussetts    (Distributed by Violette Imports)
MA Restaurants & Wine Bars: 
Clio,  370A Commonwealth Ave, Boston,  Tel:  (617) 536-7200

Eastern Standard

 528 Commonwealth Ave,  Boston,  Tel:  (617) 532-9100
Forage, 5 Craigie Cir, Cambridge, (617) 576-5444
Lumiere,   1293 Washington Street, West Newton,  Tel:  (617) 244-9199

Oleana

 134 Hampshire St,  Cambridge,  Tel:  617.661.0505
Steel & Rye, 95 Eliot St, Milton, Tel: (617) 690-2787
Ten Tables  597 Centre St, Jamaica Plain,  Tel:  (617) 524-8810
Ten Tables  5 Craigie Cir, Cambridge, (617) 576-5444
Winslows Tavern, 316 Main St, Wellfleet, (508) 349-6450
MA Retailers & Online Sales:
Cambridge Spirits, 9 Broad Canal Way, Cambridge, (617) 494-9000

Cardullo's

  6 Brattle St, Harvard Square,  Cambridge,  Tel:  (617) 491-8888

Central Bottle

  196 Massachusetts Ave,  Cambridge,   Tel:  (617) 225-0040
CurrentVintage,  4 Easy Street, Nantucket, Tel:  (508) 228-5073

Daves Fresh Pasta

  81 Holland Street,  Somerville,  Tel:  (617) 623-0867
Marty's Fine Wines | 617-332-1230| 675 Washington St. Newton
Nejaime's Wine Cellar  60 Main St,  Lenox,  Tel:  (413) 637-2221
Pemberton Farms, 2225 Massachusetts Ave, Cambridge  Tel: (617) 491-2244

Social Wines

  52 W Broadway,  Boston,  Tel:  (617) 268-2974
Sudbury Wine & Spirits  410 Boston Post Rd., Sudbury, 978-443-1300
The Urban Grape,  7 Boylston St, Chestnut Hill,  Tel:  (617) 232-4831
The Urban Grape, 303 Columbus Ave, Boston, (857) 250-2509
Maryland      (Distributed by Free Run)
Minnesota   
MN Restaurants & Wine Bars: 
Bluestem Bar,  2610 Lyndale Avenue South, Minneapolis, Tel / (612) 870-7855
Brasserie Zentral 505 S Marquette Ave, Minneapolis, (612) 333-0505
Corner Table,   4537 Nicollet Ave S, Minneapolis, (612) 823-0011

Foreign Legion

105 S 5th St, Minneapolis, (612) 333-0505 ext. 300
GYST Fermentations Bar, 25 E 26th St, Minneapolis, (612) 758-0113
Harriet Brassiere 2724 W 43rd St, Minneapolis, (612) 354-2197

Louis Wine Dive

 800 W Lake St, Minneapolis, (612) 824-3483
Nightingale, 2551 Lyndale Ave., Minneapolis, (612) 354-7060
Revival, 4257 Nicollet Ave S, Minneapolis, (612) 345-4516
Rinata, 2451 Hennepin Ave, Minneapolis, (612) 374-8998
Spoon and Stable, 211 1st St N, Minneapolis,(612) 224-9850
Travail Kitchen & Amusements, 4124 W Broadway Ave, Robbinsdale, (763) 535-1131
MN Retailers & Online Sales:
France 44 Wine & Spirits, 4351 France Ave S, Minneapolis, (612) 925-3252
Haskells, Nicollet Mall, 81 S 9th St, Minneapolis, (612) 333-2434
Lake Wine & Spirits, 404 W Lake St, Minneapolis, (612) 354-7194
Lakeside Wine & Spirits, 1916 Wayzata Blvd, Long Lake, (952) 404-2500
Lowry Hill Liquors, 1922 Hennepin Ave, Minneapolis, (612) 871-2500
Nightingale, 2551 Lyndale Ave., Minneapolis, (612) 354-7060
Solo Vino, 517 Selby Ave, St Paul, (651) 602-9515
South Lyndale Liquors, 5300 Lyndale Ave S, Minneapolis, (612) 827-5811
Sunfish Cellars, 803 Sibley Memorial Hwy (Hwy. 13) Lilydale, MN 651.552.5955
The Wine Shop, 17521 Minnetonka Blvd, Minnetonka, (952) 988-9463
The Wine Thief & Ale Jail, 1787 St Clair Ave, St Paul, (651) 698-9463
Thomas Liquor, 1941 Grand Ave, St Paul, (651) 699-1860
Vinifera Wines & Ales, 1400 County Rd 101, Plymouth, (763) 473-0008
Zipp's Liquor, 2618 E Franklin Ave, Minneapolis, (612) 333-8686
Rhode Island (Distributed by Wine Wizards)
Texas  (Distributed by Rootstock, LLC)
D&Q Mini Mart 

 Various locations.

Houston Wine Merchants 

2646 S Shepherd Dr, Houston, TX 77098 (713) 524-3397

Oporto 

 Houston, (T)  713.621.1114

Oxheart 

1302 Nance Street Houston, TX 77002, Tel: 832.830.8592

Texas French Bread 

 2900 Rio Grande St, Austin, TX 78705, (512) 499-0544
Virginia (Distributed by Free Run)
Fleurie 

108 3rd St NE, Charlottesville, 434.971.7800

Grape and Bean 

118 S Royal St, Alexandria,  Tel: (703) 664-0214

L'Opossum 

626 China St, Richmond, (804) 918-6028
Washington, DC  (Distributed by Free Run)
Blacksalt 

 4883 MacArthur Blvd NW,  Tel:  (202) 342-9101

Blue Duck Tavern 

1201 24th St NW, (202) 419-6755

Boundary Road

  414 H St NE, 202.450.3265

Del Frisco's Double Eagle 

 950 I Street NW, Suite 501, (202) 289-0201
Joe's Seafood, 750 15th Street NW Washington, DC 20005 | 202-489-0140
EXPORT
Canada
Montreal/Quebec
400 Coups
Bouillon Bilk, rue St Laurent
Foxy, rue Notre Dame
Grinder, rue Notre Dame
Hoogan et Beaufort
Jatoba
Le Cadet
Le Mange Grenouille
Liverpool House
Loic
Nora Gray
Pastaga
Toque
Ontario: Group Soleil Toronto, 647-463-9522
Manitoba: Elevage Selections, (204) 479 4526
U.K. (Imported by Les Caves de Pyrene)
Les Caves de Pyrene shop, Guildford
Brunswick House, London
The Coach, Marlow
Hand and Flowers, Marlow
Lyles Restaurant, London
Le Manoir aux Quats Saison, Oxford
Noble Fine Liquor, Hackney
The Remedy, Great Portland St, London
Sager and Wilde, Hackney
Terroir Wine Bar, London
Whistle Wines, Exeter
The Winemakers Club, Farringdon
Fera at Claridges, London
Handford Wines, S Kensington, London
Bottle Apostle Shop, N8, London
The Bull Hotel, Kent
Markus Warering at the Berkeley, London
Toasted, Shop and Restaurant, East Dulwich
Distribution & Availability Elsewhere on Earth
Czech Republic: Sun Bio Tech s.r.o. PRAHA – Nové Město, 110 00 PRAHA 1, +420 234 092 556,  info@sunbiotech.eu

Sweden: Brix Wine Consultants

 AB  Lars Forssells gata 20, LGH 1402, 16833 Bromma, SWEDEN  +46 768 323230