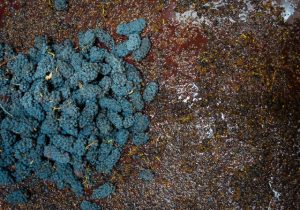 Our 2016 harvest started on August 1st, with a first pass through the Sauvignon Blanc, farmed by our friends at Frenchtown Farms on the Renaissance property. Though not quite as crazily early as the last two vintages, this is still extremely early by our "old standards".. Ever since that day, we have been at it, repeatedly going through each vineyard section at 3-9 day intervals, picking fruit by touch – feeling every cluster for its hardness/softness, which is the best indicator we can find of the elusive "perfect ripeness". We only pick clusters as they start softening, and come back again and again every few days to do the same, until all grapes are gone. While this is still work in progress, we are nearly done, with only two or three days of harvesting left to do.
We foot-stomp the grapes in open top "T-bins" and wait for fermentation to take off on its own – with no adjustments, additions, or inoculations of any kind. If, by the time we get back to the same vineyard section, the pervious fermentation has not yet peaked, we add the new harvest into the same container and stomp it again (see picture above of a typical Pinot Noir fermentation). If the last batch is already too far gone, we start a new one.
This year's main theme for us has been a severe shortage of grapes, coupled with an extreme case of uneven ripening. Nearly all of our vineyards, across all varieties, only produced between 50-75% of their expected crop, while taking far longer than usual to ripen all their fruit.
Quality seems very promising. Acidity levels are high and flavors are especially intense, most likely thanks to the feeble crop levels, which average at below one ton/acre (less than  17 hecto/hectare in the European way of measuring).
One of the bright spots was the first crop produced by our most recent planting just north of the Home Vineyard. We got microscopic amounts of Riesling, Sauvignon Blanc, Roussanne, and Syrah – not nearly enough for a commercial release, but plenty enough to  get a first insight into this terroir's expression and potential.